about algeria
algeria is a north african country with a mediterranean coastline and a saharan desert interior. many empires have left legacies here, such as the ancient roman ruins in seaside tipaza. in the capital, algiers, ottoman landmarks like circa-1612 ketchaoua mosque line the hillside casbah quarter, with its narrow alleys and stairways. the city's neo-byzantine basilica notre dame d'afrique dates to french colonial rule.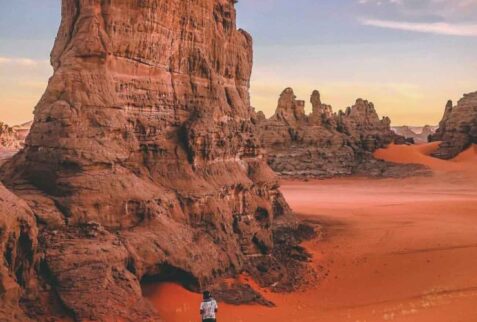 algeria is a semi-presidential republic, with local constituencies consisting of 58 provinces and 1,541 communes. algeria is a regional power in north africa, and a middle power in global affairs. it has the highest human development index of all non-island african countries and one of the largest economies on the continent, based largely on energy exports. algeria has the world's sixteenth-largest oil reserves and the ninth-largest reserves of natural gas. sonatrach, the national oil company, is the largest company in africa, supplying large amounts of natural gas to europe. algeria's military is one of the largest in africa, and has the largest defence budget on the continent. it is a member of the african union, the arab league, opec, the united nations, and the arab maghreb union, of which it is a founding member.
good to know
country algeria

visa requirements everyone else needs a visa.

languages spoken arabic

currency used algerian dinar

area (km2) 2,381,740 square kilometers
north africa
Releted Search Query
---
GET IN TOUCH
You can contact us any way that is convenient for you. We are available 24/7 via fax or email. You can also use a quick contact form below or visit our office personally. We would be happy to answer your questions.
Call To Action
Our Services
we are introducing four different packages
WHY JOIN SS Travel & Tours!
We provide you offically approved Hotels in Makkah and Madinah for Stay.
We provide you the most economy packages to meet your budget.
We provide you the language assistance (urdu speaking) for Hajji.
We provide you the complete assistance at Jeddah Airport.
Fast Visa Processing and 24 Hour Helpline to provide you better customer support.
One Window Solution to meet all your requirements.
OUR VISION
To deliver excellence in integrated UMRAH and hospitality service Sector through establishing strong B2B relationship network and Value chain management system in travel and tour industry and to Capitalize business opportunity and establish business network to Enjoy maximum market share and grow worldwide.
Cheap Flights from Pakistan.
Get popular Routes as per your prefrence
Our Visa Services.
Get popular Country visa Services