about armenia
armenia is a nation, and former soviet republic, in the mountainous caucasus region between asia and europe. among the earliest christian civilizations, it's defined by religious sites including the greco-roman temple of garni and 4th-century etchmiadzin cathedral, headquarters of the armenian church. khor virap monastery is a pilgrimage site near mount ararat, a dormant volcano just across the border in turkey.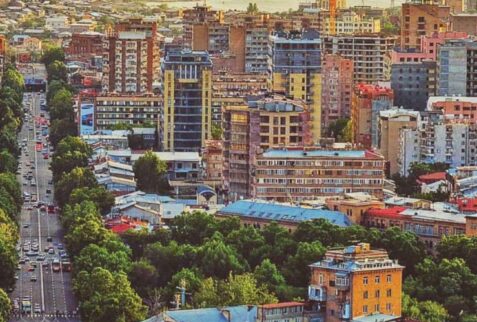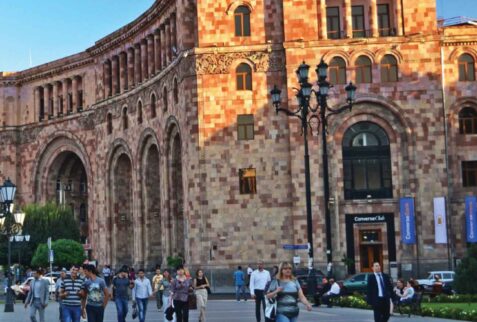 armenia is a unitary, multi-party, democratic nation-state with an ancient cultural heritage. the first armenian state of urartu was established in 860 bc, and by the 6th century bc it was replaced by the satrapy of armenia. the kingdom of armenia reached its height under tigranes the great in the 1st century bc and became the first state in the world to adopt christianity as its official religion in the late 3rd or early 4th century ad.[18][19][20] the official date of state adoption of christianity is 301.[21] the ancient armenian kingdom was split between the byzantine and sasanian empires around the early 5th century. under the bagratuni dynasty, the bagratid kingdom of armenia was restored in the 9th century. declining due to the wars against the byzantines, the kingdom fell in 1045 and armenia was soon after invaded by the seljuk turks. an armenian principality and later a kingdom cilician armenia was located on the coast of the mediterranean sea between the 11th and 14th centuries.
good to know
country armenia

visa requirements everyone else needs a visa.

languages spoken armenian

currency used armenian dram

area (km2) 2,381,740 square kilometers
south america
no tours match your criteria
Releted Search Query
---
GET IN TOUCH
You can contact us any way that is convenient for you. We are available 24/7 via fax or email. You can also use a quick contact form below or visit our office personally. We would be happy to answer your questions.
Call To Action
Our Services
we are introducing four different packages
WHY JOIN SS Travel & Tours!
We provide you offically approved Hotels in Makkah and Madinah for Stay.
We provide you the most economy packages to meet your budget.
We provide you the language assistance (urdu speaking) for Hajji.
We provide you the complete assistance at Jeddah Airport.
Fast Visa Processing and 24 Hour Helpline to provide you better customer support.
One Window Solution to meet all your requirements.
OUR VISION
To deliver excellence in integrated UMRAH and hospitality service Sector through establishing strong B2B relationship network and Value chain management system in travel and tour industry and to Capitalize business opportunity and establish business network to Enjoy maximum market share and grow worldwide.
Cheap Flights from Pakistan.
Get popular Routes as per your prefrence
Our Visa Services.
Get popular Country visa Services